Sony Xperia Z5 to receive Android 6.0 update next month?
22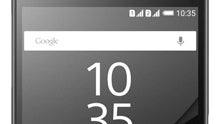 A tweet from tech journalist @Ricciolo1 indicates that the
Sony Xperia Z5
will receive the Android 6.0 update in January 2016. The tweet adds that older Xperia models will receive the update after the Xperia Z5 line gets it. There are different models in the series, the Sony Xperia Z5, the
Sony Xperia Z5 Compact
and the
Sony Xperia Z5 Premium
. The latter is the first smartphone to offer a 4K display (for pictures and certain media content; at other times the phone sports a 1080p resolution screen).
Back in October, @Ricciolo1 revealed via a tweet that
the Android 6.0 update will improve the Stamina Mode on the Xperia Z5 line
. This mode extends battery life on the handsets by turning off apps running in the background. With the screen off, apps will not sync, and data traffic is cut off. Users will receive phone calls, SMS messages and MMS notifications. The alarm clock will still ring, the native calendar app will still work, but the LED lights will only flash to warn users that the battery is low. Considering that Stamina Mode already increases standby time on the Xperia Z5 handsets by 400%, it's hard to imagine how much of an improvement we will see.
Android 6.0 will also add Doze, the feature that can tell when a phone is inactive, and puts it into a deep sleep state. This obviously lengthens the battery life of handsets sporting Marshmallow. In addition, the update will allow users to give app permissions on a feature-by-feature basis. It also adds Google Now On Tap, which will provide contextual search results based on what is on the screen.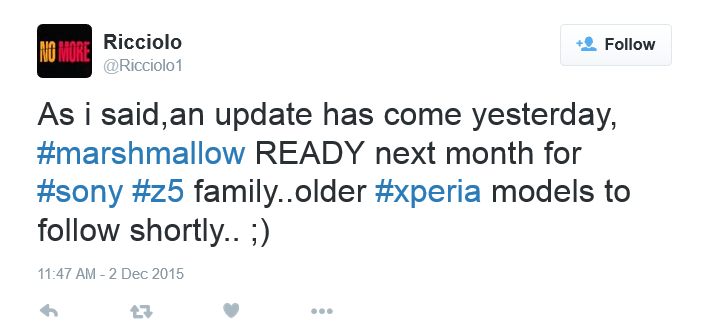 Tweet from tech journalist Ricciolo says that the Sony Xperia Z5 line will be updated to Android 6.0 next month
Thanks for the tip!
source:
@Ricciolo1
Recommended Stories