Sony Xperia Z specs review: greet the real 007 phone
62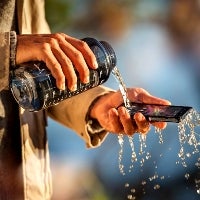 Sony
calls Xperia T the James Bond phone
, but that title should have really waited for the
Xperia Z
monstrosity it just unveiled at its CES 2013 presentation. The company's first device with a Full HD mobile display has all reasons to make its parents proud, at least on paper. Let's review the announced specs, and try to gauge the performance that will come out of this little phone wonder called Xperia Z.
We say little, as for the 5" display it is sporting and the rough IP55/57 certification, the handset has surprisingly compact dimensions, due partially to the use of on-screen navigational buttons, allowing for thinner bezel, and the rest to the
"skeleton frame"
that Sony's engineering prowess has come up with. The construction allowed for a 7.8mm thin but sturdy chassis, with water- and dust-resistant certification.
The Xperia Z also sports the trendy premium glass material for the chassis, introduced with the iPhone 4, which means it looks and feels nice in the hand, a far cry from the usual plastic most everyone uses. LG tried this experiment on the Android side with the
Optimus G
and its
Nexus 4
sidekick, and it worked well, despite some
isolated reports for cracked backs
, eventually due to tight packaging vs wider temperature amplitudes.
Sony is likely using Asahi's Dragontrail glass for the back, which is first cousin of Corning's wildly popular
Gorilla Glass brand
, so you can rest assured the chassis of the Xperia Z will be tough and scratch resistant. Sony adds a
purple color option
for the Xperia Z to the usual white and black, showing that it can be done, even with a handset made of glass.
Perhaps the best of all news around the Xperia Z design is that Sony managed to supply the handset with a full suite of ports and slots, including
a microSD one
, despite the unibody watertight design, which is rarely seen these days, and would attract many to the handset just for the expandable memory option alone. Sony also placed the round metal lock/power key right under your thumb on the side, which is as ergonomic as it gets.
A 5" 1080x1920 pixels display with the Mobile BRAVIA Engine 2 tech makes the Xperia Z futureproof for 2013, when all Android flagships are expected to hit that Full HD screen mark. Sony's HD mobile screens on the last Xperia flagships were good in terms of
pixel
density and color, but lacked in viewing angles, and the
initial preview of the phone
noticed the same here, 441ppi count or not. Indeed, the units on display at CES we saw seem to sport the same weak viewing angles we've grown accustomed to with high-end Xperias for a year now.
The high pixel density reduces border jaggies in text and small detail much more compared to even the current high-end HD screens. While it makes reading, for example, a bit less tiring for your brain in theory, as it has to spend less effort to recognize the letter, the difference of efforts in reality is very minuscule and unlikely to be noticed in comparison with a nice high-def mobile screen, even if you read for hours on end.

Another advantage is that you can watch Full HD videos with 1080 definition in their complete glory on this display, so you will be able to see all the details of the footage taken with the phone's camera, for example. The difference in perception, compared to an HD 720 video on a screen of this size at a normal viewing distance, however, is unlikely to tip the scales in the 1080 definition favor just for this feature alone. You also gain more details to zoom in and work with if you are editing a photo on your screen, which again is an unlikely pastime on a phone display, at least not in depths and duration.
These Full HD screens are not at all the battery threat we expected them to be, judging from
HTC Droid DNA
's nice endurance tests, so we don't expect anything less from Sony, which is on top of that introducing the Battery Stamina mode that puts the phone in a low powered state to increase standby times significantly compared to your average smartphone.
The 1.5 GHz quad-core
Snapdragon S4 Pro
needs no introduction, as it is powering some of the best Android handsets out there currently, like the
Nexus 4
, has proven that no app or overlay can slow it down, and it is thrifty to boot, with integrated LTE and HSPA+ baseband radio combos. The 2 GB of RAM are a first for Sony, but were a staple for high-ends from Samsung and LG last year.
Sony has integrated a 16 GB flash memory chip into the Xperia Z, and, most thankfully, has included a microSD slot with a protective cap on the side as well, so you can add more storage to your heart's desire.
Another very interesting aspect of the phone is its 13 MP camera sensor on the back. It is of the new
Exmor RS
variety, meaning it has "stacked" design, taking less space, and is also backside-illuminated for better low-light photography.
Overall, Sony has come up with a pretty great Android phone that might be currently considered the
best in its high-end class
, given the memory expansion slot, water- and dust-resistance, and HDR video capabilities. The Xperia Z actually makes the case why Sony is the second largest Android maker after almighty Samsung, and that position will likely only by affirmed this year, if phones like the Z are any indication.