Snapdragon S4 Pro: Unleashing the beast
59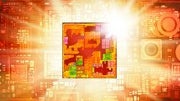 This story is sponsored by LG. PhoneArena's opinions in this article have not been affected in any way!


We've had a lot of movement in the mobile chipset space in the recent years, and by the looks of it, the best is yet to come. With the proliferation of smartphones and tablets, mobile processor makers have been motivated to innovate and deliver faster and more capable chips to market, enabling device manufacturers to create faster and smarter products.
Qualcomm's Snapdragon line has been at the forefront of this tech revolution. From the first 1GHz mobile processor, the original Snapdragon, to the latest generation, the S4, the Snapdragon line has become almost synonymous with the word "chipset". And while many companies are currently relying on Qualcomm's dual-core S4 solution, the chip maker recently unveiled an even more powerful SoC (System-on-Chip), the quad-core Snapdragon S4 Pro.
Once you've looked through the characteristics and the preliminary benchmarks of the S4 Pro, you immediately understand what the hype is all about. Scheduled to make its commercial debut pretty soon, the Snapdragon S4 Pro is expected to blow the competition out of the water. Let's take an in-depth look at what makes this processor so special!
What's Snapdragon S4 Pro
The Qualcomm Snapdragon S4 Pro is a chipset designed for heavy duty. It features four Krait CPU cores (although a dual-core implementation is also possible), each clocked at up to 1.7GHz. It's made using the 28nm technology, but what's probably its biggest asset, besides the Krait CPU itself, is its graphics chip, the Adreno 320. This mobile GPU (graphics processing unit) is incredibly powerful and allows device manufacturers and software developers to create immersive user interfaces (or experiences) and applications that can make our mobile devices even more capable and fun to use.
Initially, the Snapdragon S4 Pro was designed for use in tablets and notebooks, but, as we now know, it will also be used to power high-end smartphones like the upcoming
LG Optimus G
.
The benefits
Well, where should we start? With a powerful chip such as the S4 Pro, pretty much every operation on your mobile device will happen faster. More importantly, web browsing should get a significant performance boost, due to the presence of four cores, which can handle a number of open tabs very efficiently.
Apart from web browsing, entertainment is probably the biggest beneficiary of all this horsepower. Not only do you get seamless 1080p video recording and playback (actually the S4 Pro packs so much punch it can play a number of hi-def video clips at the same time), but you also get support for advanced 3D technologies, OpenGL ES 3.0 and high-performance in pretty much all games and heavy applications out there, courtesy of the Adreno 320 GPU.
Speaking of performance, have you seen the preliminary benchmarks of this thing? Running on Qualcomm's mobile development platform device, the S4 Pro scores over 7500 on Quadrant, while the Galaxy S III (armed with its Exynos 4412 SoC) remains a distant second with a score of just barely over 5300. When it comes to graphics benchmarks, the margin is just as impressive. On GLBenchmark's Egypt offscreen test, the S4 Pro can score over 130, while the second-fastest device, the Galaxy S III's Exynos 4412, scores a bit under 100. Other benchmarks, like AnTuTu and NenaMark 2 don't indicate such an enormous lead for the S4 Pro, but they sure confirm that Qualcomm's finest will, in fact, trump anything else once it comes to market. Such benchmark results are quite impressive and promise great possibilities for software developers.
| | | | |
| --- | --- | --- | --- |
| | Quadrant Standard | AnTuTu | NenaMark 2 |
| Snapdragon S4 Pro MDP | 7587 | 13941 | 59.7 |
| One X (Tegra 3) | 4848 | 11024 | 47,4 |
| Galaxy S III (Exynos 4412) | 5335 | 12016 | 58.6 |
Expectations
These are good times for the mobile industry. The smartphone market is growing faster than ever, and chipset manufacturers are constantly delivering better and better products in order to guarantee that every new generation of mobile devices is way ahead of the previous one. Normally, we'd ask ourselves if this kind of rapid advancement can continue for much longer, but with upcoming chipsets like the Snapdragon S4 Pro, we're pretty sure that there's a lot of good things to look forward to. Speaking of the future, the S4 Pro chip will actually make its debut pretty soon on the
LG Optimus G
smartphone, which is expected to go on sale in time for the Holiday season.
Here's a video of Qualcomm's Senior Product Manager, Leon Farasati, showing off the features of the upcoming Snapdragon S4 Pro chipset: