Corning Gorilla Glass is now on more than a billion devices
6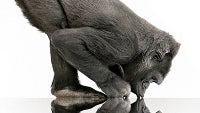 Corning's Gorilla Glass
now seems like a must-have technology in smartphones and tablets, but some five years ago it wasn't like this. The arrival of the iPhone gave the New York-based glass company a boost it probably didn't expect will become this big, and now Corning Gorilla Glass is used in more than a billion devices.
The tough glass arrived in its second thinner and tougher version recently, and while it all started with a meeting between Steve Jobs and Corning chief executive Wendell Weeks, to arrive on the iPhone, the technology is now used in Samsung, Nokia, Sony devices, virtually all manufacturers use it.
In the last quarter, Q3 2012, Gorilla Glass brought the company $363 million, growing 21% from the same period last year.
But the company total sales dropped on a year-on-year basis as its telecoms and environmental units grew weakened.
In the future, though, Willow Glass is coming. This is an "ultra slim flexible glass" technology making it much easier to create curved surfaces.
source:
Corning
via
TechCrunch