Alleged Sony Xperia XZ4 smiles for the camera... That's a tall phone!
29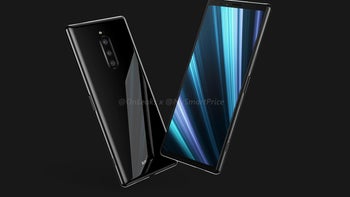 We've already heard a bunch of crazy rumors telling us that the
Sony Xperia XZ4
might add a "super" to the current tall-screen trend. Instead of having an 18:9 aspect ratio or even 19.5:9 one, leaks say that the Xperia XZ4 will go over the top with a 21:9 display. Now that's a "Wow!" right there!
Well, here we have the very first
alleged real-life photo
of Sony's next flagship. Of course, it is kind of blurry and kind of underexposed — where's the fun in getting a full detailed view of the phone so early?
And yes, there is something funky going on with that image. It's been doctored, but was it for the purpose of hiding something or is it an all-out fake?
What we can see is a very, very thin "chin" and possibly an only slightly thicker "forehead". While that looks quite impressive, one can't help but wonder how easy it would be to pull the notifications shade down when holding the device with just one hand.
As far as the visible UI, we can see a light reskin of Android, Sony's signature approach, and Android 9 Pie's navigational pill, signifying support for the new gestures. Of course, you will probably be able to swap to the classic navbar with 3 buttons should you desire.
The transparent bar on the side that signals the presence of a Side Sense drawer is also there. If you recall — that was a feature that launched with the Xperia XZ3. It allows you to access various functions and apps by tapping on the side of the handset's screen.
Now, we wonder — assuming this photo is legit — is this going to be "goodbye" to front-firing stereo speakers? And, if so, will Sony switch to the "bottom boomer, earpiece tweeter" combo that we've seen employed by Samsung, Apple, and HTC in the past?
Curious about the Sony Xperia XZ4? We are about to see it
announced at MWC 2019
in a month... probably.