Sony Xperia XA1 and XA1 Ultra hands-on: new life for the mid-range
2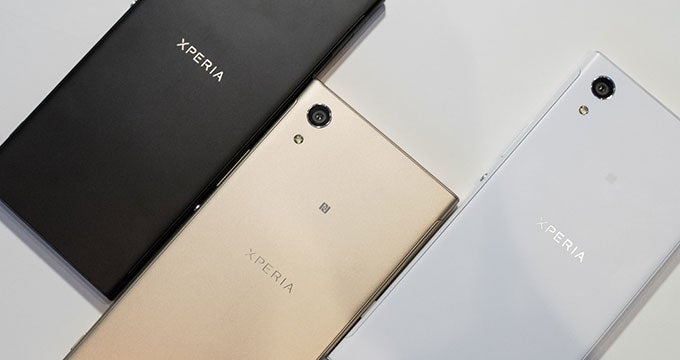 Maybe even more so than is the case when you're building a flagship phone, crafting a new mid-ranger is a tricky business of picking the right components that will go in to forming that hardware. Do you aim to produce a handset that's basically a new look for last year's (or the year before's) flagship? Or come up with something that uses the latest and greatest parts designed specifically for this market segment?
Sony's gone back and forth with this balance, and its latest mid-rangers manage to do a little of both, uniting some recently-launched processors with a very familiar camera package. This time, though, we're checking out not one, but two new handsets that try and pull that crossover game, as Sony introduces the Xperia XA1 and Xperia XA1 Ultra phablet.
Some Solid Improvements Hide Under A Familiar Design
Sony's a company that's very, very comfortable with its existing design language, and with the Xperia XA1 phones, we see the manufacturer return to these handsets' namesakes for much of its inspiration. Like the
Xperia XA
(and
XA Ultra
) before them, these phones go with the old-style raised, round power button that was once the most prominent design feature of Sony's lineup (now replaced by the sunken, fingerprint-integrated power button).
Many of the XA's contours also return, with edges that transition from round, to, flat, to round again, unlike the continuous, unbroken curves of the new Xperia XZ Premium.
But it's not all a rehash of past designs: the XA1 and XA1 Ultra also make a few choices that help differentiate them from the XA and XA Ultra like more squared-off corners. We also see the phones graduate to the new, reversible world of USB Type-C connectivity. And users who consume a lot of media on their phones are going to really appreciate the welcome addition of stereo front-facing speakers.
Good Screen Size Options, But Resolution That's Lacking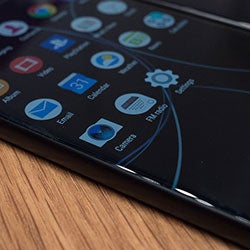 With the exception of the
Xperia XZ Premium
, none of Sony's new phones are particularly pushing the envelope when it comes to display tech, and we shouldn't expect that pattern to deviate for a couple mid-rangers like the XA1 and XA1 Ultra. Just as with their predecessors, we're looking at a five-inch 720p screen on the XA1 and six-inch 1080p panel on the XA1 Ultra. Those are both a little below where we like to see pixel density, and while we wish that also meant keeping costs way down, any potential savings there don't appear to translate over to retail prices.
We
weren't exactly wowed
by the screens on either the XA nor XA Ultra, and it doesn't appear Sony's done much to change its tune with these XA1 models: while brightness appears good, colors tend towards the cooler end of the spectrum.
What these displays lack in resolution and color accuracy, though, Sony just might make up for with its attractive curved-edge, minimal-bezel design.
Decent Updates Help Improve Mid-Range Performance
Like the XA and XA Ultra before them, Sony's going for a slightly-south-of-mainstream choice of processor for the XA1 series, returning to MediaTek. But while those phones used the older Helio P10, these new phones take advantage of the octa-core P20, only launched back in September.
Sony also throws these phones a bone when it comes to memory, boosting RAM from 2GB on the XA and 3GB on the XA Ultra to 3GB and 4GB for the XA1 and XA1 Ultra.
That helps both these Xperias feel slightly more capable than Sony's last batch of handsets, while also keeping costs and power requirements low. Expect performance that's plenty adequate for web browsing, social media, and the vast majority of your casual, everyday phone interactions. Will you pull down the highest possible frame rates in the latest 3D games? Doubtful, but that's hardly the use case these models are designed for, nor the sort of users they're targeting.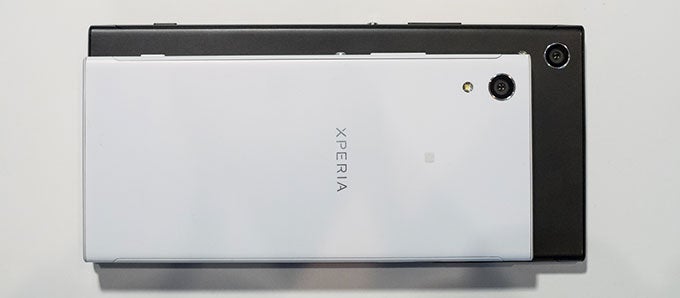 Sony Stretches The Life Of A Camera We Know Very Well
While the processors in the XA1 and XA1 Ultra may be new, their cameras are a straight-up blast from the past: Sony gives these phones the same primary camera package we first met a year-and-a-half ago
in the Xperia Z5
. Once again, it's a story of flagship hardware eventually trickling down to the mid-range. That means a big 23MP sensor – a serious upgrade from the XA's 13MP shooter, and even the 21.5MP sensor on the XA Ultra.
Like the Z5, these models get to take advantage of the same 3-axis optical stabilization, another really nice comparative luxury for some mid-range models. Hybrid auto-focus and and ISO rating that goes as high as 6400 will further help you get some really satisfying pics without spending a fortune at the same time.
Around front we see a little differentiation between these two phones. The Xperia XA1 gets an 8MP selfie cam, not unlike what we saw with the XA. The XA1 Ultra, meanwhile, pushes the limits a little with a 16MP front-facer, and one it pairs with an LED flash for low-light operation. That's the same sort of situation we saw with the XA and XA Ultra, but why fix what ain't broken?
Battery Upgrades Are Not Part Of This New Package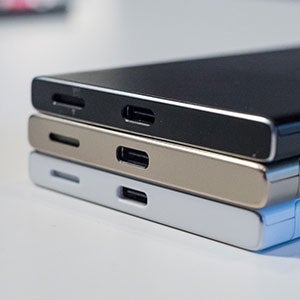 Sony has a habit of aiming low with its batteries on this series, giving the XA a 2,300mAh cell and the 2,700mAh battery – paltry capacity for a phone so large. These new models do nothing to change that situation, arriving with the same size batteries.
Both phones support MediaTek's Pump Express+ 2.0 fast-charging tech, and tap into the same Qnovo Adaptive Charging algorithm to fight battery degradation that we see in Sony's higher-end Xperias.
Expectations
It really feels like Sony went into crafting the XA1 and XA1 Ultra with the same sort of mindset it had creating the XA and XA Ultra last year. The good news for us is that just enough time has passed for the company to create phones that exists along those same basic lines, while also being new enough to take advantage of some decent hardware upgrades. We don't expect either of these handsets to compete with the new Xperia XZ family members, but the added processing heft, boost to camera resolution, and enhancements like those front-facing stereo speakers help these latest XA phones feel fresh.
The option to choose between two sizes while not making a lot of sacrifices is also nice, and while the XA1 Ultra gets a nicer front-facer, bigger battery, and more RAM, the changes aren't so severe as to drive shoppers to the larger phone just to have access to them; for the most part, it really does feel like pure size preference will steer users to one phone or the other, and these models are closer together on the spec page than last year's editions.
Both these phones are landing in one incredibly competitive market, with no shortage of other mid-range options – and that includes plenty of really attractive choices from companies intent on providing their hardware at absolute bottom-basement prices (something Sony's never been good at). Will that mean that fewer consumers ultimately end up deciding on one of these models? We should find out in just a few months, with sales slated to begin in late April for the XA1, and sometime this summer for the XA1 Ultra. While pricing for the latter has yet to be revealed, expect to see the XA1 hit store shelves at nearly $300.