Sony Xperia X Performance gets Android 7.0 Nougat preview through new Xperia Beta Program
1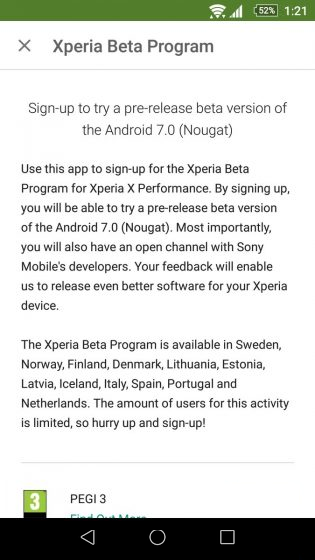 Mirroring the
Xperia Beta Program for Android 6.0 Marshmallow
, Sony has just launched a new beta program that allows
Xperia X Performance
owners to test a pre-release version of Android 7.0 Nougat.
Since this is a beta program, you shouldn't count on extreme performance, advanced features, or device stability, at least not in the initial phases of the program. Sony says that the new beta program will not only allow Xperia X Performance phones to test drive the upcoming Nougat version of Android but will also open up a communications channel between users and developers. In other words, Sony needs users to report problems to the developers so that the Sony team can create a seamless experience for when the commercial version of Nougat rolls out.
At the moment, it looks like the new Xperia Beta Program is only available to the Xperia X Performance, the best-specced phone in Sony's new Xperia X series. As things stand, we can't tell if the pre-release Android 7.0 Nougat version will eventually trickle down to other phones in the new smartphone line-up. Sony's Android 6.0 Marshmallow beta program was only available for the Xperia Z3 and the Xperia Z3 Compact.
If you're rocking the Sony Xperia X Performance in the US, we have some bad news for you: the new Xperia Beta Program is currently not available in stateside. At the moment, only users from several European countries have access.
Users from Finland, Danemark, Sweden, Lithuania, Estonia, Latvia, Iceland, Italy, Spain, Portugal and Netherland can head on over to the source link below to become a part of the program. Sony notes that there are only a limited number of spots available, meaning that you should probably sign up now to secure your place in the program.