Sony Xperia "ST21i" Tapioca leaks in full glory, pictures galore
8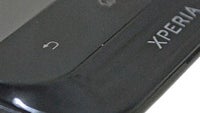 Just yesterday, we saw another image of the Sony Xperia ST21i Tapioca leak out, confirming its existence, and today our Russian colleagues from Mobile-Review have gotten a hold of the early prototype and serve us a whole bunch of pictures to gaze upon along with a first look at the handset.
Now, the Xperia ST21i Tapioca is a low-end affair, a relatively new territory for Sony which is specializing on premium products. Still, it's expected to sell for around $260 (200 euro) off contract, more than the usual crop of affordable Androids. Here's what's it got in store for you:
3.2-inch HVGA display,
800 MHz single-core CPU,
3-megapixel fixed-focus camera
Nothing impressive, and you'd definitely find it hard to distinguish text on the pixelated low-res screen. The budget Tapioca handset is still rough on the edges when it comes to software, and as a matter of fact it's still carrying the Ericsson branding which will definitely disappear from the final design. Finally, this might really be a very early prototype, but one thing that shouldn't change is the design - so take a close look at the pictures below if you like the Xperia ST21i.
Recommended Stories