Sony Xperia M2 vs LG G2 mini vs Motorola Moto G: specs comparison
8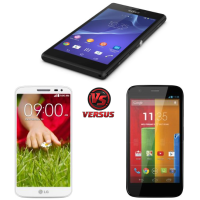 When Motorola introduced the Moto G in November last year, we all had no choice but to admit that the Android mid-range had been redefined for good. The value for money ratio has been on a growth path for a long time now, but the Moto G came as of if nowhere, and it wasn't just an awesome value proposition -- it was a great device overall.
But it didn't take a strategic genius, even back then, to speculate that it's only a matter of time until Motorola's much larger rivals answer the challenge. And they have, though they're not quite there yet price wise. Sony's just outed all new Xperia M2, for example, seems to have enough to offer as to entice customers away from the more obscure Moto G. LG, now more dangerous than in years, has also come up with its own answer -- the G2 mini. Both Sony's new M2, and LG's Tegra 4i-powered variant of the G2 mini are likely to cost more than the Moto G, and both sport lower resolution, qHD screens. What they lack in affordability and
pixel
density, however, they make up with the availability of 4G LTE, and larger, more potent batteries. So which one should you pick? That's a hard and subjective question that will require some digging, but you can check out the facts about three devices in our handy specs comparison table right below.
Scratch-resistant glass, Ambient light sensor, Proximity sensor
Proximity sensor
Ambient light sensor, Proximity sensor
Qualcomm Snapdragon 400
Qualcomm Snapdragon 400 8226
Qualcomm Snapdragon 400 MSM8926
Quad-core, 1200 MHz, ARM Cortex-A7
Quad-core, 1200 MHz, ARM Cortex-A7
Adreno 305
Adreno 305
Adreno 305
Android (5.0 Lollipop, 4.4.4, 4.4.3, 4.4.2, 4.4, 4.3)
Android (5.1 Lollipop, 4.4.2)
Android (5.1 Lollipop, 5.0 Lollipop, 4.4.4, 4.4.2, 4.4, 4.3)
14.20 hours
the

average

is 17 h (996 min)
28.9 days (693 hours)
the

average

is 20 days (472 h)
13.60 hours
the

average

is 19 h (1110 min)
26.4 days (633 hours)
the

average

is 0 days (0 h)
Single camera
Single camera
Single camera
8 MP (Autofocus, BSI sensor)
8 MP (Autofocus, BSI sensor)
1280x720 (HD) (30 fps)
Yes
1920x1080 (Full HD)
5.11 x 2.59 x 0.46 inches (129.9 x 65.9 x 11.6 mm)
5.10 x 2.60 x 0.39 inches (129.6 x 66 x 9.8 mm)
5.50 x 2.80 x 0.34 inches (139.6 x 71.1 x 8.6 mm)
5.04 oz (143.0 g)
the

average

is 6.5 oz (184 g)
4.27 oz (121.0 g)
the

average

is 6.5 oz (184 g)
5.22 oz (148.0 g)
the

average

is 6.5 oz (184 g)