Sony Tablet S benchmark tests
13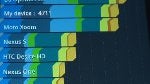 Sony's foray into the tablet world has begun as the
Sony Tablet S
is
finally available for purchase
, but much unlike some of the Honeycomb tablets before it, the one distinctive feature it has to offer is the fact that it's a
PlayStation Certified
device. Granted that it might not require too much processing power to run original PlayStation content, it's still hitting the mark with its rivals with its
1GHz dual-core NVIDIA Tegra2 processor
.
From the short time we've been playing around with the Honeycomb 3.1 flavored tablet, we're greeted with the usual fluid movement with its homescreen – even in portrait where we're normally accustomed to seeing some choppy executions. Running their customized interface, it does add some visual flare to the usual looking stock Honeycomb experience. In short, the real-world usage is undoubtedly more than tolerable to our liking, but we need to spend a little more time to make a final judgment.
Even with its modernized dual-core processor, the Sony Tablet S unfortunately doesn't put up spectacular benchmark scores with
Quadrant
– and in fact, it's only able to get results ranging from
1,566 and 1,734
. Sadly, it's actually one of the lowest scores we've seen with a Honeycomb tablet thus far and pales in comparison to the numbers offered by the
Motorola XOOM
and
HTC Jetstream
. Conversely, the
AnTutu
benchmark overall score is surprisingly
better than the competition
at
4,711
, which is well above the mark we've seen so far with Honeycomb devices.
Again, benchmark scores are one thing, but they don't necessarily portray the real life performance of the tablet. So in the meantime, we'll be getting more comfy with the Sony Tablet S to see how it's able to perform throughout various tests and tasks.