Best Buy puts the Sony Tablet S on display for pre-order
2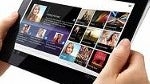 The story of what is currently going on with the Sony Tablet S is a bit muddled. As we
reported
, Home Shopping Network is offering the 16GB version of the Android tablet for $599.95. Now keep in mind that
the typical HSN viewer might not be someone who is well versed in technology
and wouldn't know the difference between a device with 16GB of storage, or one with 32GB of storage. HSN says that the tablets are ready to ship.
On the other hand, Sony is taking pre-orders for the same 16GB version of the tablet for $499.99. The tablet is expected to ship on the 16th of this month which means
if you can wait until Friday, you can save a C-note
. Otherwise, if you buy the device from HSN you will see the note go into the pocket of the television sales pioneer.
Now thanks to a tipster who tweeted a photo to Engadget, there is a third choice. The picture shows what appears to be the 32GB variant of the Sony Tablet S (check out the price card below the device) which Best Buy has tagged at $599.99. The 16GB version of the Sony Tablet S matches the manufacturer's pre-order price of $499.99.
Best Buy is following Sony by taking pre-orders for the tablet, but if you head over to your local Best Buy location and buy the manager a sizzling hot cup of java, show him the HSN picture from our previous story, perhaps he might cut you a break and
let you buy it now
. And if he doesn't, Friday will soon be here and besides, you can still pre-order the 32GB version of the Sony Tablet S for the same price that all of those porcelain doll buyers are paying for the 16GB version at HSN.
source:
@daharder
(Twitter) via
Engadget