Sony Ericsson outs 1.3" Bluetooth screen to go with your Android phone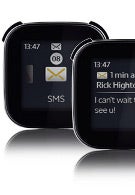 Well, Sony Ericsson, we didn't expect that from you. The company unveiled at a London event the Sony Ericsson LiveView - a miniature 1.3" screen (yes, you read that right), which can connect to your Android phone via Bluetooth.
Sony Ericsson LiveView is extremely compact in size, it connects with your phone, and can display updated information from there. The "innovative" accessory will notify you about missed calls, messages, alarms and notifications from Facebook and Twitter; it can also control the music player. The advantages (according to SE), are that you don't have to constantly remove the phone from a bag or pocket to check the time, or for new updates. The really small size of LiveView permits to put it in convenient places like a watch strap (included), or clip it on a shirt.
The contraption also has a microUSB connector for charging, and OLED display with a resolution of 128x128 pixels. According to the manufacturer, the battery lasts 4 days with standard use, which is a very flexible concept in our experience. Compatible with Sony Ericsson phones with Android, and other phones with Android 2.0 or higher versions. The management application Sony Ericsson LiveView can be downloaded from the Android Market, or will be installed on phones that are sold bundled with this accessory.
Well, if for a main phone we use the
Dell Streak
or a
Galaxy Tab
, or for women who carry their smartphones buried deep in their bags, we can see Sony Ericsson's point. Still, to be so lazy that you need to clip on an external screen to check on your text messages, instead of reaching for your pocket - that takes the term coach potato to a whole new level. Sony Ericsson LiveView will be available in stores in the fourth quarter of 2010.
source: Sony Ericsson