Sony Ericsson Xperia X10 gets some Honeycomb love thanks to XDA-Developers
1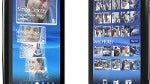 The guys at XDA-Developers are constantly pushing themselves to new heights, so here comes another great feat - Honeycomb has been ported to the
Sony Ericsson Xperia X10
.
Take into account this ROM is only at a pre-alpha stage, which means it's far from a stable build. Regardless, here's a list of a few features that work to one degree or another:
Wi-Fi (needs testing);
Honeycomb's GUI;
Touchscreen;
GPS;
The phone's keys;
microSD card (not working properly yet);
ADB connection;
Charging.
Don't get us wrong - unofficial ROMs are awesome - but it's even better that there is a great (and official) turnaround from the days when
Sony Ericsson unequivocally ruled out updating its Xperia X10
phone beyond Android 2.1. Truth is, a lot of water has passed under the bridge since then, and a new Sony Ericsson has emerged - one that's stating over and over again it
has learned from its mistakes
.
That translates into the joint-venture promising timely updates for its Android phones. Even better, now it's backing its words with actions, so it's officially announced it's only a matter of time before we see some
Gingerbread love for the Sony Ericsson Xperia X10
.
As for this phone's Honeycomb ROM, it's already available for download on XDA-Developers' forum.
source:
XDA-Developers
via
Ubergizmo