Sony Ericsson Xperia PLAY benchmark results don't break any new ground (video)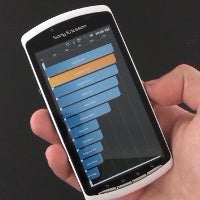 Cold blooded benchmarking is whatreveals the actual performance of a chip and in the case of the SonyEricsson Xperia PLAY it's a key part as the gaming centric handsetrelies on graphically intensive games. But how does it rate to therest out there?
We ran a couple of benchmarks to seehow the graphical part of the single-core Qualcomm MSM8255 chipset with Adreno 205 graphics onthe Xperia PLAY performed. First the Quadrant Standard Editionapplication showed results varying in the 1500's, comparable to whatthe recently released HTC Incredible S can reach. At the same time,the dual-core heavyweight LG Optimus 2X scored nearly 2400 on thesame test. But Quadrant is a comprehensive test and to furtherseparate out the graphics we had to turn to An3DBenchXL, a benchmarkmeasuring the 3D graphical punch power. The following series of testsshowed that the Xperia PLAY was no front-runner in deliveringthe best of graphics. We ran the following tests on the Xperia PLAYalong with the LG Optimus 2X and the Samsung Galaxy S without lagfix:
This rather detailed breakdown showsthat the Xperia PLAY - while being definitely capable - is far fromreaching higher grounds in the graphical department. Actually, itsperformance compares more to the one on the last year's SamsungGalaxy S. We wished we could justify this by saying that it's thesoftware that matters, but currently the XPERIA Play has only 6exclusive PS titles in store. The bottomline seems to be that thegamepad is what truly defines the first PS-certified handset. It's ahuge plus nevertheless – it frees up the screen and boosts yourgaming a great deal, but graphic-wise the XPERIA Play is notechnological wonder.