Sony Ericsson XPERIA X2 finally available for 490 Euros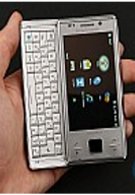 In the wake of the Android onslaught we've been seeing of late, the Windows Mobile packing Sony Ericsson XPERIA X2 has finally been made available for purchase. It's going to cost you almost an arm, or even a leg, to get your hands on this one of a kind smartphone that's considered a premier contender for Windows Mobile. Missing out on the entire holiday season, the unlocked XPERIA X2 is finally hitting stores with a hefty price tag of 490 Euros – which equates to over $700 if you plan on buying it.
Now would spending that kind of cash be a justifiable for anyone to do? It very may well be worth that large sum of money to people with its impressive long list of features – plus it's one of the big boys of the Windows Mobile 6.5 world. Here's something to really think about if you plan on importing this gem of a device – you can always go with the XPERIA X1 and upgrade it to WM 6.5 through some unofficial channels. That's just food for thought, but don't let that small tidbit of information dissuade you from getting this handset.
Sony Ericsson XPREIA X2 Specifications
|
Preview
source:
Plemix
via
GSMArena