'Zeus Z1' PlayStation Phone prototype receives its first benchmark score
2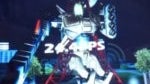 When you close your eyes and dream about the Sony Ericsson PlayStation Phone, which is also going by the name of the Zeus Z1, you'd imagine a steroid filled smartphone that's capable of handling even the most intricate games out there. In fact, the void that it's filling in the smartphone market would only make sense with its keen attention on the gaming front.
However, some will probably be taken back by the handset's less than alluring performance on a recent benchmark app. There is a
video
that shows the alleged device running Qualcomm's Neocore benchmark app and eventually hits the mark of
24.4 frames per second
on average – which isn't what some are probably hoping for out of a gaming machine.
Though, you've got to keep in mind that the software is probably
not
the final production build and that the result we see here isn't going to accurately portray its true potential. However, let's just cross our fingers that things are going to be fine tuned further between now and its
eventual release
to make it a clear choice winner for gamers.
source:
Engadget
Recommended Stories