Some of Verizon's 4G LTE is OUT; Big Red working to resume service
32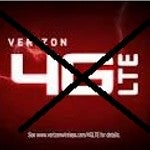 Verizon engineers are currently hard at work, trying to get the carrier's 4G LTE network up and running after complaints from customers that those with 4G handsets
are not sending or receiving data
. Verizon says that 3G voice and data are not affected by the outage. Some 4G customers have had their phone shift down to 3G coverage while others have had no service at all. According to Big Red, voice calls and texts are still going through (which brings a sigh of relief to those who voted for their favorite X Factor contestant on Wednesday night, using a Verizon LTE phone to text their selection).
While some are complaining about the loss of 4G data, others have had no problem at all and some have had an intermittent connection to data. And as we said, Verizon is telling everyone that it is hard at work to fix things. If you are a 4G packin' Verizon customer, let us know
if you have service
tonight
, or if your data transmissions are getting caught up in that long traffic jam on Verizon's LTE highway.
source:
AndroidCentral