Some Nokia N8/C7 phones plagued by display problems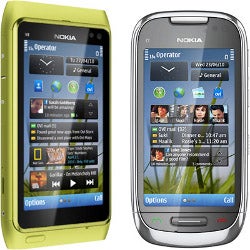 The Nokia N8 might be the company'sflagship, but problems with the handset have plagued the company since it's launch and they seem to continue as atweet by Russian tech analyst Eldar Murtazin quotes an internal Nokiaservice bulletin revealing that phones made in December were"produced with faulty displays." The issue also affectsthe more affordable Nokia C7 model, which might be coming on T-Mobile as the Nokia Tiger, and will require a completereplace of screens.
The Finns plan on selling 150 millionSymbian handsets in the coming years before they make the switch tothe Windows Phone platform for higher-end products, but themanufacturing issues could hamper the company's efforts. Currently,Nokia is still the world's biggest cell phone maker, but itsfootprint is mostly outside the United States. It aims to increaseits U.S. presence and most recently advertised the N8 during the Oscars despite it not being available subsidized on anycarrier in the States. Currently, the 12-megapixel camera phone canbe had for $329 through Dell's website.
source: Twitter