Nokia: "small number" of Nokia N8 phones fail turning on, warranty will cover
8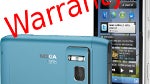 Nokia admitted that a "small number" of
Nokia N8 phones
have a problem switching on, or what is known in the mobile phone industry as a dead-serious-problem. Luckily (if this word is appropriate), standard warranty should cover it, according to Nokia's head of marketing Niklas Savender.
The issue should be solved by calling your local support number and Savender stressed his concern to turn this over as quickly as possible. Future Nokia models and production for Nokia's flagship should not be affected since the issue has been identified as engine related and dealt with, as the Finn was careful to point out. He continued to explain that the number was indeed "small" in comparison to the overall sold Nokia N8s and only "limited" users were affected. However, more devices might show up with the same problem.
Some people on Twitter complained about their Nokia N8 devices and the handset is reported to have suffered from returns in Russia, where Nokia traditionally has a strong stand. The company has been plagued by technical and organizational problems in the past year or so as it relies more and more on low-end models to support its global leading position in mobile phone sales. This led to a change in policy and CEO Olli-Pekka Kallasvuo was replaced by ex-Microsoft Stephen Elop.
Have you or someone you know experienced such a problem with the Nokia N8?
source:
Nokia Conversations
via
Engadget