Some Nokia Lumia 900 pre-orders arrive; device is center of attention in Times Square
18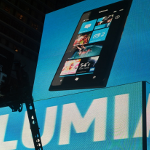 Some of those who had pre-ordered the flagship Windows Phone handset, the Nokia Lumia 900, were
pleasantly surprised when their new phone arrived on Friday
. The device was supposed to arrive on Sunday April 8th, the date of the official launch of the black and cyan version of the smartphone. The white model is set to be released on April 22nd. The Nokia Lumia 900 is priced to sell at $99.99 with a signed two-year pact via AT&T.
the guest of honor at a coming out party Friday night at New York's Times Square
. The whole shindig took about 30 minutes and featured three songs from Nicki Minaj and a DJ spun some tunes. A giant LCD screen splashed a light show over the crowd just before the phone made its appearance.
Windows Phone fans are looking for a device that becomes the "must-have" breakout model for the OS the same way that the Motorola DROID started Androidmania in 2009. Ironically, it was the
Motorola DROID that took over the displays in Times Square
back in November 2009 to show off the Google Navigation feature on Android 2.0. Is this a hint of things to come for Microsoft's mobile OS?
source:
Electronista
,
WPCentral