Some Best Buys selling Verizon Galaxy Nexus early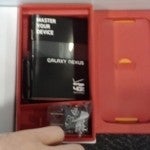 It's unclear if these sales were intentional or mistakes, but a couple people have reported being able to purchase a Verizon Galaxy Nexus from Best Buy today, which is a full 4 days before the latest rumored release. Two separate people reported to Android Police that they were able to purchase a Verizon Galaxy Nexus today, and have the pictures to prove it.
Unfortunately, the two are pretty much the only ones to successfully purchase a Galaxy Nexus, so lends credence to the idea that they may have had some inside help. Still, the whole ordeal just continues to prove that Verizon and Google are making a mess of this launch, no matter what the excuses for the delays.