Some Best Buys selling Verizon Galaxy Nexus early
38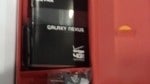 It's unclear if these sales were intentional or mistakes, but a couple people have reported being able to purchase a Verizon Galaxy Nexus from Best Buy today, which is a full 4 days before the latest rumored release. Two separate people reported to Android Police that they were able to purchase a Verizon Galaxy Nexus today, and have the pictures to prove it.
The most telling pictures came from Sean Bates, who even posted a picture of his receipt from the transaction. The suspicious thing about his receipt though, is that the SKU for the device comes up as 99999999. As we said at the top, this could be because someone sold the device accidentally before it was given a proper SKU, or it could be because Sean had some help on the inside and the Best Buy employee in Olathe, KS knowingly broke the release date.
Unfortunately, the two are pretty much the only ones to successfully purchase a Galaxy Nexus, so lends credence to the idea that they may have had some inside help. Still, the whole ordeal just continues to prove that Verizon and Google are making a mess of this launch, no matter what the excuses for the delays.