Solar Walk for Android is a stunning 3D stroll through planets, stars and the vast depths of space
9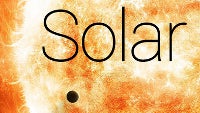 Want to go on a ride around the Solar system? Solar Walk, an immersive 3D model of the solar system, takes you on a journey through every planet and satellite of our Solar system, as well as of the Milky Way galaxy. The app, long available on iOS, has just arrived on Android, with all the bells and whistles of its impressive visuals and cosmic soundtrack. It even support Immersive Mode (gets rid of on-screen buttons so that the whole screen is used by the app).
In its essence, Solar Walk is an education app telling you about spacetime, with close-ups of planets, their trajectories mapped and their stories told.
Solar Walk has a free and paid version, but the free one is more like a demo - it shows you one planet with its satellites, but not much more. In the paid app, you get to see the whole Solar system, and as you stroll around our corner of the universe (or multiverse?), each planet is aligned correctly to the Sun, in accordance to the current time and date. Plus, you can even specify a time in the past or future, and use the app as a time machine, seeing what the world looked like then.
All in all, if the one weekly episode of the Cosmos TV series with Neil deGrasse Tyson and his ship of imagination is not enough, Solar Walk is an excellent companion to your virtual space explorations.