SoftBank takes the ALS ice-bucket challenge in supremely Japanese fashion
5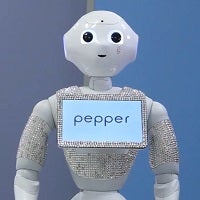 Okay, we know, this ice bucket stuff has lived
way past its prime
. Just when you think things are going to settle down however, someone adds just a little something new to the mix and it turns out to be worth sharing anyway.
In June, Japan's
SoftBank introduced Pepper
, a robot which has begun to play a role interacting with customers at SoftBank retail locations. The robot will also be available for sale to the general public sometime next year for about $2,000.
When you live and work in Japan, and work on cutting edge technology like robots, what might you do to one-up the rest of the world in terms of things like the ice bucket challenge? Well, how about getting the robots to do the wet work for you?
That is not to say SoftBank engineers were going to let Pepper be doused in a bucket of ice water. The robot is probably okay dealing with basic elements like a drizzle of rain, but certainly not a several liters of water all at once. These robots represent many millions of dollars of research, so we are certain that Masayoshi Son would not be willing to part with any bit of that investment in such a fashion.
The team at SoftBank programmed a team of Pepper robots to do the leg work and show off SoftBank's support in the ALS ice bucket challenge.
We know the luster is gone, but we suspect this will not be the last of what has turned out to be a very successful fundraising campaign. If you would like to forgo the whole ice water thing, we thought we would actually include a link to the ALS Association since that is the one critical element that seems to be missing from all these videos.
reference:
ALS Association