Samsung Galaxy S5 takes the Ice Bucket Challenge
51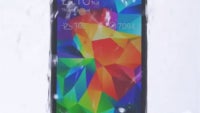 The Ice Bucket Challenge has gone more than viral and has now burnt out to the point where it's getting altered and derailed. We saw Charlie Sheen pour a bucket of cash on his head ($10,000, to be exact) and we saw Foo Fighters' Dave Grohl play a whole mini-movie out of the thing, acting like a prom-queen (yeah...) who's getting "pranked" by fellow band members. Back here in the tech-world, Samsung is first to create an alternative entry in the campaign, while showcasing the
Galaxy S5
's water-resistance along with it.
The video is nothing flashy – the phone presents itself, talking with its S Voice, then a stream of icy water spills over it from off-screen. The phone notes that it's freezing (ha-ha) and nominates three of its flagship rivals – the
iPhone 5S
,
HTC One (M8)
, and the
Nokia Lumia 930
. Obviously, this is an attempt of a tongue-in-cheek jab at the competitors' lack of waterproofing, though we can't say we find it to be in particularly good taste.
source:
Samsung