Snaps of a working Note 5 kill off any hope of a removable battery or microSD slot
99+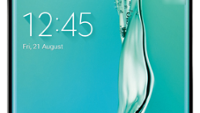 If you were still holding out vague hope that the
Samsung Galaxy Note 5
would offer a swappable battery and or microSD slot, then those aspirations have been well and truly dashed by a new leak of the forthcoming phablet. The Note series has long shared character traits with Samsung's flagship Galaxy S line of smartphones, and where the
S6
and
S6 Edge
have sacrificed removable storage and battery in favor of slick design, the Note 5 will almost certainly do likewise.
All recent information pertaining to the Galaxy Note 5 has suggested that this will be the case. Indeed, as soon as the Galaxy S6
was unveiled
in the run-up to
Mobile World Congress
earlier this year, it seemed likely that the Note 5 would follow suit. But with power users accustomed to these staple features, many were still praying that the rumors and overwhelming stack of evidence was off, and that Samsung would offer Note 5 owners the option to change battery or add some extra real estate.
New pics shared with the folks at Droid Life have put paid to this notion, though. Save a very elaborate fabrication effort, the device you see here below seems to be the Galaxy Note 5, curved backside and all. A working version of the handset, it's essentially a carbon copy of the Galaxy S6 from the outside, with the main difference being that it's larger and boasts a more sizeable display.
The source of this particular leak, whom we suspect is sharing accurate info given the direct access to the device, says that there's a 3000 mAh battery and 4 GB of RAM on board --
in line with previous speculation
. Despite the lack of a microSD slot -- a potential deal-breaker for some -- there are 32, 64, and 128 GB storage options, and the device itself is expected to be unveiled at Samsung's
confirmed Unpacked event
next week.
We asked you a short while ago
whether you'd miss
a microSD slot and removable battery with the Note 5, and your answer was a resounding (70/30)
yes
. Samsung's decision to favor design over long-standing features may be appropriate at flagship level, but with Note users more accustomed to having the most powerful, customizable model of smartphone on the market, the move could come back to bite Sammy on the rear.
Thoughts?