Snapdragon 835 chipset carries an octa-core CPU, Adreno 540 GPU and Quick Charge 4.0
46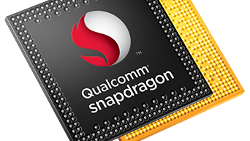 As expected, some more information about the Snapdragon 835 chipset was released today in Las Vegas. The new high-end SoC features an octa-core CPU using eight Kryo 280 CPU cores. Four will be running at a clock speed of 2.45GHz. Those are the performance cores you use when you need the A-Team. The remaining four cores are running at a clock speed of 1.9GHz for efficiency. 80% of the time, your phone will be using these guys. But when you need to load an app or browse the web or use VR, the heavy hitters are rolled out.
The Snapdragon 835 is built on Samsung's 10nm process which gives it a 27% performance boost over the last generation model. It is 40% more energy efficient and with the smaller footprint, it leaves more room for larger batteries and additional features to fit inside the phone. With Quick Charge 4, batteries charge up 20% faster than they do with Quick Charge 3. The Snapdragon 835 SoC has enough juice to power up more than a day's worth of voice calls, five days of music playback, seven hours of 4K video streaming and three hours of 4K video capture. Five minutes in the outlet with Quick Charge 4 will give users five extra hours of battery life. 15 minutes of charging will take the cell to 50% full. If you look back fondly at your
HTC One (M8)
, you'll be happy to know that the Snapdragon 835 SoC uses half the power of the Snapdragon 801 SoC that was used on that model.
The chipset supports up to one 32MP camera or two 16MP snappers. It comes with Clear Sight to support those models with dual camera set-ups (a number that is on the rise). 4K video capture runs as fast as 30fps with 4K playback at 60fps. And the Adreno 540 GPU will crunch 60 times more colors and is 25 times faster rendering 3D than the Adreno 530. The chipset does work with Google's Daydream VR platform.
We should see top flagship phones like the LG G6, the HTC 11 and the
Samsung Galaxy S8
(in some regions) sporting the Snapdragon 835 chipset early this year.
source:
Crackberry