Snapdragon 820 specs reveal a next-gen 14nm process, better than in A9 or Exynos 7420
45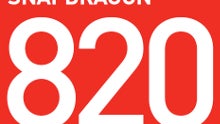 The full specs sheet of Qualcomm's newest and most powerful chipset to date -
Snapdragon 820
- confirms the rumors and
teases
that it will be built with a
next-gen LPP 14nm process
, unlike the current phones with 14nm LPE edition.
The difference between the Low Power Early (LPE) and Low Power Plus or Performance (LPP) generations is what it says on the tin - LPE are the inaugural production batches of a die shrink, proving the viability of the move to this node, and generally exhibits a much faster performance with less power consumption in the same footptint as the previous generation.
Delivering maximum performance and low power consumption, Kryo is QTI's first custom 64-bit quad-core CPU, manufactured in advanced 14nm FinFET LPP process
The LPP process, on the other hand, is an improvement within the same 14nm generation, bringing about a higher performance within an even smaller power envelope than 14nm LPE, and LPP is what Snapdragon 820 will be built on, as you can see in the PDF specs sheet below.
We'd wager to guess that the upcoming
Exynos 8890
- which is
another candidate to go into the future Galaxy S7
- will also be built on Samsung's second-gen 14nm LPP process, so these two should be crushing the benchmarks when they land. At the same time, they should be more frugal than the 14nm LPE chips like the Apple A9 in
iPhone 6s
, or the Exynos 7420 in the
Galaxy S6
, so we can't wait to see what the Galaxy S7 will have on offer in the power draw/performance ratio department.
Recommended Stories