Snapdragon 810 myths busted - no overheating, excellent 4K and gaming performance
99+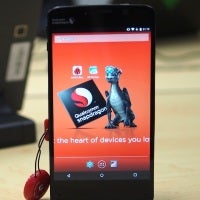 The Snapdragon 810! Never has Qualcomm produced a more mythical SoC for the masses' smartphones and tablets. Does it heat up like a torch? Does it pound the competition with a math-busting, graphics-crunching hammer? While we do have a good all-around idea about the answers to both questions (especially the first, as Samsung's latest Exynos SoC is Qualcomm's new boogeyman), it's the first time we've had a thorough, benchmarks-lined look at the chipset's thermal, processing, and connectivity performance.
Slashgear managed to put the Qualcomm Mobile Developer Platform (MDP smartphone and tablet - literally the most amped-up mobile devices money and a developer certificate can buy - through benchmarks and testing. The tablet has a 4K display and 4GB of RAM, while the smartphone has a 2K display and operates with 3GB RAM. Here's what we get to learn:
The benchmarks are impressive!
In AnTuTu, the MDP smartphone racked up a stupendously high total score of 61,692. Note that this is most likely a single pass score and the SoC hasn't throttled itself down drastically. If the test was to be run again immediately, the score would have been lower - but not significantly, in this monster of a SoC's case! Meanwhile, the MDP tablet with its 4K display scored 52,102 points. Here's some perspective, folks. Right now, the most powerful smartphone in our database is the Snapdragon 805-driven
Nexus 6
, which has a 2K display and scored 56,836 points in AnTuTu. The Qualcomm Adreno 430 GPU is able to drive a 4K display with an intensity that almost matches the Adreno 420 handling a 2K screen.


Global connectivity is a sure thing
Qualcomm went absolutely nuts in future-proofing its latest silicon for connectivity.
The Snapdragon 810 supports the Cat 9 LTE standard
, and is compatible with all major cellular standards and technologies supported by 4G LTE, including GSM/EDGE, CDMA1x/EVDO, TD-SCDMA and WCDMA/HSPA+. It even works in China, where one will find all seven cellular standards of today. The peak downlink rates are up to 450 Mbps.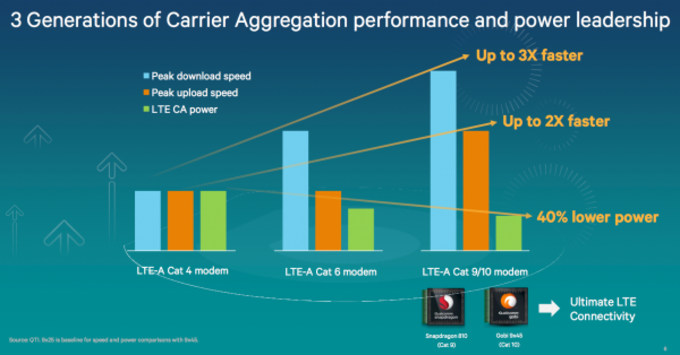 Rumors of overheating are greatly exaggerated
Qualcomm is continuing with the damage control after those reports of the Snapdragon 810 overheating tarnished its flagship reputation. It provided an estimate of the temperatures the silicon reaches under typical usage scenarios. Under light usage - making phone calls, shooting photos, browsing typical websites - system temperature stays at 86 to 95F (30 to 35 degrees Celsiuis), which isn't anything out of order. The temperature levels could rise up to 113F (45 degrees Celsiuis) while playing demanding games. This is the point where thermal mitigation engages and brings the clock frequency down to turn down the heat.
Reportedly, the Snapdragon 810 can manage a comfortable temperature of around 104F (40 degrees C) for more than thirty minutes after heavy load. It also reaches only 95F (35C) after five minutes of 4K video recording, while older Snapdragon 801-based devices outright forced the user to stop videotaping.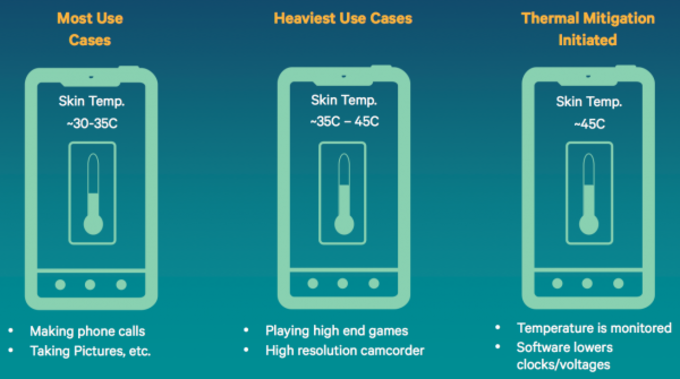 Conclusion
The Snapdragon 810 is
packed with forward looking technology
that's proprietary to Qualcomm - such as computational photography, advanced noise cancellation, Dolby Atmos, Sense Audio, Quick Charge, and more. We are curious how the competition will match these.
The Snapdragon 810 will enter mass production by mid-March, which means any flagship smartphones from MWC 2015 that
don't have "Samsung" written on them
should start shipping by April and May. Meanwhile, the
LG G Flex 2
and
Xiaomi Mi Note Pro
will be launching even earlier in selected countries.
source:
Slashgear