7 innovative features built inside the Snapdragon 810 64-bit processor
37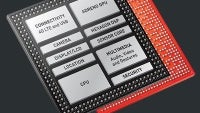 At this point, it's a public secret that Qualcomm's upcoming 64-bit Snapdragon 810 octa-core processor will reign inside the biggest, baddest Android smartphones and tablets of 2015. If you aren't up to speed with what this beast is made of, you should
have a quick look at its technological profile
. No matter if you are from team NVIDIA, or team MediaTek, or team Intel, you are bound to end up impressed!
But it's not only performance-crazy, LTE-enabled, energy efficient chips that Qualcomm's established itself with. Behind every Snapdragon chip lies intense technological research, which has enabled many of your device's innovative features. We're talking about high-resolution displays, 4K video recording, high-megapixel camera sensors, noise cancellation, photo re-focus, rapid charging, and more functionality that mobile technology makers are pushing in their products right now, or testing for their ambitious future projects.
Unsurprisingly, Qualcomm's proud tradition of innovation continues in the Snapdragon 810. We were lucky enough to get briefed by the company on all of the exciting new features it's built inside the chip. While we can't say for sure how many of them will end up in actual consumer products, each one represents a compelling proposition. Top-shelf performance aside, Qualcomm's 64-bit flagship addresses customer security, ultra-high resolution content, sound quality and noise cancellation, computational photography zoom, and advanced wi-fi connectivity.
Enough with the teasing already! Let's see what's inside the Snapdragon 810's bag of tricks: