Snapchat's first three Snap Games for Android and iOS go live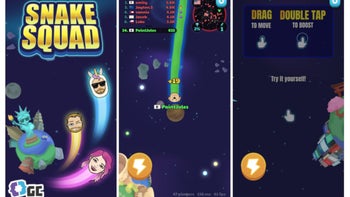 Soon after Chinese giant Tencent bought a big chunk of Snap's shares, the company
announced a set of important changes
coming to Snapchat. In an attempt to keep its users logged as long as possible, Snapchat introduced Snap Games, a collection of multiplayer games that allows users to play with their friends or other Snapchat users.
Initially, Snapchat confirmed that six games will be available for Android and iOS users, but didn't say when exactly they will be available. Today, the first three Snap Games have been made available for download on both mobile platforms: Snake Squad, Zombie Rescue Squad, and Bitmoji Party.
Each game allows a different number of
Snapchat users
to play together, but all three promise frantic gameplay and hours of fun. Chat among players is possible during play sessions, both through video or text means.
Another set of three Snap Game are expected to be release soon: Alphabear Hustle, C.A.T.S Drift Race, and Tiny Royale. All games are available through Snapchat, so make sure that you have the latest version of the app if you want to fire up those games.