Smuggler caught in China with 94 Apple iPhones strapped to his body
49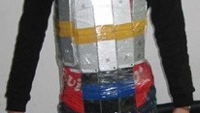 Busted! A Hong Kong man was nabbed by Chinese customs officials on Sunday, trying to cross the border with 94 Apple iPhones strapped to his body. The value of the phones was in excess of $49,000. The man attracted the attention of officials near a crossing in Shenzhen, a city in southern China that borders Hong Kong.
The smuggler appeared to be carrying a heavy load despite traveling light. This raised the suspicions of customs agents who found nothing unusual in two plastic bags he was carrying. But when he went through the metal detector, it went off. Taken into a room and stripped of his shirt and pants, the 94 iPhones could easily be seen, covered by shrink wrap and secured by duct tape wrapped around his chest, abdomen, crotch and thighs.
Most people reading this story in other publications wouldn't care, but we know our readers would want to know exactly which iPhone models were involved. The man had the
Apple iPhone 6
and the
Apple iPhone 5s
strapped to his body. Smugglers are playing a game of price arbitrage. In Hong Kong, a 64GB Apple iPhone 6 goes for $820 while the exact same model costs $1000 in China. With demand for the Apple iPhone 6 red hot in the country, crime organizations can pay a guy to smuggle as many iPhones as possible from Hong Kong to China where they are sold at a profit.
Since December, Shenzhen officials say they have caught 18 smugglers with electronics to their bodies, and have confiscated 282 iPhones.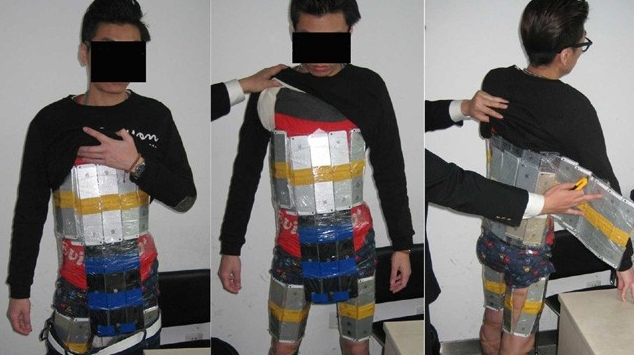 Smuggler nabbed with 94 iPhones strapped to his body
Thanks for the tip Audrey!
source:
WPLG/CNN