Smartphones with quick charge: fastest to recharge from 0% to 100%, from the Galaxy to the iPhone
76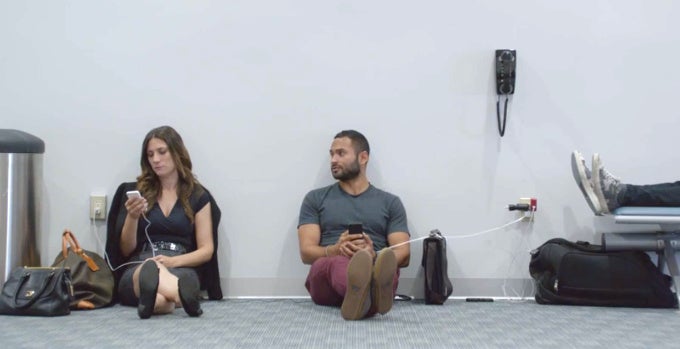 We've looked at the battery life of the top smartphones, comparing them, and running exhaustive battery tests that show how long a device can last, but with the advent of technologies like QuickCharge 2.0, we're starting to get more and more devices that not only last long, but also recharge very rapidly.
The QuickCharge 2.0 itself is a technology developed by chip maker Qualcomm and - if licensed - is supported in all recent 8xx top series of system chips. Meaning that practically all of the latest flagship smartphones like the Samsung Galaxy S5, Note 4, HTC One (M8), LG G3, Sony Xperia Z3, Moto X (2014), and others should have it. In reality, though, not all phone manufacturers have chosen to enable it, but for those that have done this, the effect is immediately obvious.
QuickCharge 2.0 brings a huge improvement in battery charge times
In this list, we'll look at charging times - the time it takes for a device to go from a dead battery to a fully, 100%-charged state. The smartphone that support Quick Charge 2.0 are fastest to recharge and often, even just a half an hour on the charger could replenish such a phone enough to last a few hours. Keep in mind that we use the built-in wall charger in this test, and if you try to charge via USB or via a different, incompatible charger, you will likely get a worse result. The reason is that you cannot draw the same amount of charge via USB or a different charger.
With all those considerations in mind, let's take a look at the phones that are fastest to get fully recharged, from 0% to 100%, with the fastest ones coming first.
1. Oppo Find 7a
Charge time (0% to 100%): 1 hour 22 minutes
Battery Capacity: 2800mAh
Battery life: 6 hours 6 minutes
The Oppo Find 7a might surprise you with its first place on this list, as it is not a device that is all that common, but it indeed packs some impressive battery charting technology: VOOC charging. The technology allows the phone to go up to 75% charge in merely 30 minutes, and for a full recharge, you'd need to wait an hour and 22 minutes.
2. Samsung Galaxy Note 4
Charge time (0% to 100%): 1 hour 35 minutes
Battery Capacity: 3220mAh
Battery life: 8 hours 43 minutes
The Samsung
Galaxy Note 4
features a spacious battery, but it is Qualcomm's QuickCharge magic that allows it to get quickly replenished - in just an hour and 35 minutes. A nice extra for the Note 4 and other top-shelf Samsung devices is that the battery is user-removable.
3. Google Nexus 6
Charge time (0% to 100%): 1 hour 38 minutes
Battery Capacity: 3220mAh
Battery life: 7 hours 53 minutes
The Google Nexus 6 comes equipped with a Motorola Turbo Charger that allows it to get the massive 3220mAh battery refilled very quickly - in just an hour and 38 minutes.
4. LG G3
Charge time (0% to 100%): 2 hours
Battery Capacity: 3000mAh
Battery life: 6 hours 14 minutes
The LG G3 falls in a category of slower charging devices that take two hours or more to replenish their juicers. The 3000mAh battery on the G3 is recharged in exactly 2 hours.
5. OnePlus One
Charge time (0% to 100%): 2 hours
Battery Capacity: 3100mAh
Battery life: 8 hours 5minutes
The OnePlus One might look like an almost exact clone of fhe Oppo Find 7 and 7a, but one technology it does not bring over is the VOOC charging, and it takes a much lengthier 2 hours to recharge it fully.
6. Samsung Galaxy S5
Charge time (0% to 100%): 2 hours 2 minutes
Battery Capacity: 2800mAh
Battery life: 7 hours 38 minutes
The Galaxy S5 boasts a rechargable battery that is also in this mid-tier of charge speeds - with 2 hours and 2 minutes to get fully replenished.
7. Samsung Galaxy Note 3
Charge time (0% to 100%): 2 hours 15 minutes
Battery Capacity: 3200mAh
Battery life: 6 hours 8 minutes
Last year's Note 3 was among the better phones in terms of battery life when it launched last year, but now, just a year ahead in time and it ranks in the mid to low ranks in terms of battery charge speeds and longevity.
8. Apple iPhone 6
9. Motorola Moto G (2014)
The original Moto G impressed with its battery longevity, but the 2014 edition of the phone arrived with a larger and more taxing on the battery 5-inch display, so battery life did take a hit. Recharge times are also not on par with most Android flagships as the Snapdragon 400 system chip that the Moto G runs on does not support Qualcomm's Quick Charge 2.0 technology.
10. Apple iPhone 6 Plus
11. Motorola Moto X (2014)
The Moto X (2014 edition) is also no champ in either battery longevity, or charge-up times, ranking decisively in the bottom of our listings.
12. HTC One (M8)
The HTC One (M8) comes with a sleek unibody and a fairly decently sized 2600mAh juice pack, but it takes forever to charge up - 3 hours and 27 minutes.
13. Sony Xperia Z3 Compact
Some companies have decided to trade great battery life for not so great recharge times. We're talking about Sony, of course. The company is among the very best in battery longevity, as its Z3 Compact, for instance, is our most long-going non-phablet device, but it also takes an eternity to reacharge - 3 hours and 28 minutes.
14. Sony Xperia Z3
The Xperia Z3 is another top-of-the-rank battery performer by Sony that is not so tops when it comes to battery recharging - it takes an excruciating 3 hours and 55 minutes to fully recharge (almost 4 hours)! You'd better make sure you put it for a nightly charge, as a quick charge-up during the day will do you little good.