Smartphone shipments worldwide rose 4.3% during Q1
14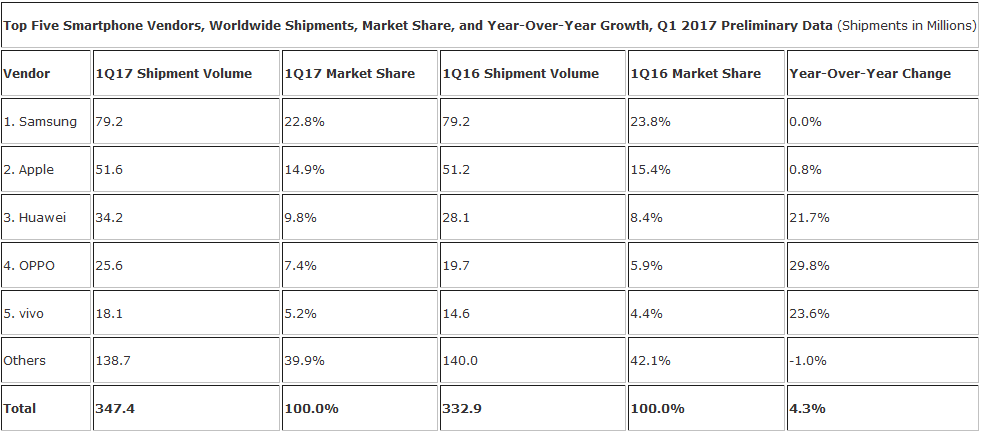 Samsung remained on top of the global smartphone market during the first quarter
According to the latest data from IDC, global smartphone shipments rose 4.3% in the first quarter, topping the analytical firm's previously made forecast of 3.6% growth. Overall, 347.4 million smartphones were delivered from January through March, up from the 332.9 million tallied last year. Samsung continued its reign over the smartphone world by shipping 79.2 million units in the period. While that was flat with last year's number, the manufacturer actually lost a full percentage point of market share. For the first quarter, Samsung was responsible for 22.8% of worldwide smartphone shipments.
Apple remained number two behind Samsung with total shipments of 51.6 million, .8% ahead of the number of smartphones it delivered during last year's first quarter. For the three months, Apple's share of the market was 14.9%, half a percentage point lower from the 2016 first quarter number.
Chinese manufacturers took the last three spots in the top five. Huawei was third as it shipped 34.2 million units around the world during Q1. The company had strong 21.7% year-over-year growth and owned 9.8% of the global smartphone market at the end of the period. Oppo had the strongest annual growth in the period, with shipments soaring 29.8% to 25.6 million smartphones. Market share at the end of March was 7.4%. Vivo also enjoyed strong year-over-year growth during this year's first three months, with a 23.6% gain to 18.1 million phones shipped. That gave Vivo a first quarter market share of 5.2%.
"Although we have seen an abundance of premium redesigned flagships that just entered the market, moving forward, we still expect most of the growth to come from more affordable models in a variety of markets. Despite all the popularity and media hype around premium devices, we continue to witness a shift in many companies' portfolios geared towards affordable devices with premium-type styling compared to flagship models. Companies have started to implement a single premium design language that ultimately blurs the lines between the high-end and the low-end, allowing the average consumer to jump on the brand without a hefty upfront investment."-Anthony Scarsella, research manager, IDC's Worldwide Quarterly Mobile Phone Tracker"
Because of the high number of smartphones that both Apple and Samsung ship each quarter, the two companies at the top are suffering from slower growth, especially compared to their smaller Chinese rivals.
source:
IDC
via
AndroidAuthority