Slip of the tongue: Eric Schmidt says Google always wanted in on the "hardware business", and got itself a Motorola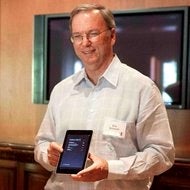 "
We always wanted to be in the hardware business
," said Google's chairman Eric Schmidt at the Allen&Company retreat last week. "
Larry and Sergey have always wanted to do hardware in one form or another. This was a way to get into it quickly.
"
"This" is, of course, the
$12.5 billion acquisition of Motorola
announced last year, which raised some eyebrows amongst Android device manufacturers which thought they'll have to compete with Moto for Google's attention. Eric Schmidt had actually admitted last week that Moto's hardware business has been a real draw, not just the patents it holds.
Nothing has happened so far out of the ordinary from Motorola's camp after the acquisition, and the
ATRIX HD
has most likely been in the works way before, yet Eric Schmidt also said that a new crop of products are almost ready for prime time from Motorola.
Google just recently announced its first
Nexus tablet
, and its first homebrew piece of hardware, the
Nexus Q
, and time will tell to what extent it has influenced the upcoming products from Motorola, if at all. There are no doubts, though, that it is stepping up its hardware game, as a way to diversify its revenue strategy, which comes mainly from search. If this year that means the rumored
five Nexus devices from the top Android manufacturers
, we are all for diversifying.