Google Nexus Q gets hacked to run launcher and apps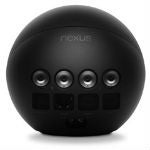 There was an announcement at Google I/O last week that has already been almost forgotten: the Nexus Q. In general, it looks like an interesting product, but the main problem with the device is the price point. There are a number of devices on the market that have similar features, but are far less expensive than the $300 tag on the Q. Here's how low interest is in the Nexus Q - it's an unreleased product that's selling for
less
on eBay (~$250) than the official preorder list price ($300).
But, what if the Nexus Q could do more than stream media? What if it could run a more complete version of Android with games and apps? Certainly that could make the $300 price tag look a bit more acceptable. Well, that is now possible. Some claim that the process to hack the Nexus Q for higher functions is pretty advanced, but really if you've manually unlocked and rooted an Android device before, it's pretty standard. Maybe the one-click rooters should study up before trying though.
Still, it's pretty impressive what developer kornyone was able to do in such a short time. He unlocked and rooted the Nexus Q, then side-loaded a launcher, Chrome, Google Apps, and some other goodies like Netflix, all of which seem to work just fine. Essentially, this changes the Nexus Q from the "social streaming media player" it's marketed as into a real Android-powered mini-computer. The work is still quite early, but should only get better from here.