Sleek new Oppo R7 and Oppo R7 Plus shown in official press renders
12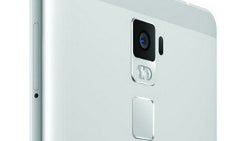 Oppo might be a name that does not ring a bell to many people in the United States, and that's understandable - the Chinese company is focused on the Asian market. Nonetheless, its devices are definitely among the more interesting ones and will spur excitement among both techies for the innovations and regular people for the sleek, metallic design.
Now, the upcoming Oppo R7 and Oppo R7 Plus, the two flagship phones for the company in 2015 have appeared in their official glory. The company has posted the official images of the phones before their official unveiling at the end of the month, and with a few details that have appeared earlier, it seems that we know a lot about them already.
The Oppo R7 is expected to feature a 5-inch display with a resolution of 1080 x 1920 pixels. It runs on the Snapdragon 615 system chip, a 64-bit piece of silicon with an octa-core CPU consisting of four Cortex A53s clocked at 1.7GHz and four more at a lower clock speed of 1GHz, all of that running alongside 3GB of RAM. The base model of the Oppo R7 will come stocked with 16GB of internal storage. On the camera side, the handset sports a 20.7-megapixel camera.
Oppo's exciting VOOC charging features, capable of driving north of 4A charge into the battery thanks to optimizations on various levels, are also on board the R7, which is powered by a 2320mAh battery. Finally, the Oppo R7 is priced at 2,999 yuan (the equivalent of some $480), some 40% less than the price of the Apple iPhone 6 in China.
Next, we have the Oppo R7 Plus that is expected to feature a 5.9-inch display with a resolution of 1080 x 1920 pixels. Leaked benchmarks show this phablet running on the 64-bit octa-core MediaTek MT6795, with 3GB of RAM and along with 32GB of internal storage.
We don't know the price for the larger-sized Oppo R7 Plus, but it's interesting to note that it has a fingerprint scanner (on the back), while the smaller phone lacks such a feature.
What do you think about these affordable yet well-stuffed in terms of silicon new phones? Would you buy one of them if they were available in your country?