Skype expands, looks for iOS, Android developers
3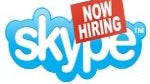 One of the most popual VoIP clients, Skype, started its way as a desktop program and is now found on most major mobile operating systems like
iOS
and
Android
. However, the app still misses some features and is now looking to hire 20 to 30 mobile engineers to join its team and help up with development.
The fresh blood might help the company bring features like video calling to its mobile app for different platforms. Currently, Skype users can make free calls between each other over 3G or Wi-Fi connection or use text chat. The company offers a number of packages, which offer competitive pricing for international and local calling.
The new staff will move to a new 90,000 square foot office in Palo Alto, CA to join the current staff of 110. The VoIP client has 80 engineers working on the software and with more and more apps offering similar services we are sure to see development in the sector. If you want integrated calling experience for iOS you can go with recently released
Viber
, while
FaceTime
could be your choice for free video calls over Wi-Fi. Android users could go with the
Tango
app for a video chat. With front-facing cameras slowly becoming almost a standard feature of high-end smartphone and
4G reaching lightning fast speeds
, video conferencing might be ever so common. Do you find Skype useful or would you rather use traditional carrier services?
source:
GigaOM