Viber comes to iPhone dressed as a Skype killer
13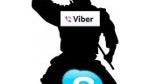 It is not every day that we see apps claiming to be the Skype killer in the App Store, but Viber seems to be as close as possible to beating the most popular VoIP client. What sweetens the cake is that with Viber calls can be made over
3G or Wi-Fi
and that the price of the app stands at exactly
zero
dollars. We hate sounding like a commercial, but do you know what else will you get? Viber is fully integrated with the Phone app on your iPhone and is soon coming to Android and BlackBerry OS. Unfortunately, "while Viber is known to work on iPod touch and iPads, they are not officially supported", so try it out on your own risk on one of these.
Okay, hopefully this caught your attention. There really is
no catch
– calls between Viber users are free, which means that you end up paying only for data. You still have to try it and see for yourself, but our guess is that the app will end up installed on many smartphones. The app functions in a pretty straightforward way. First you have to authenticate your phone number via an SMS code and then the app
syncs
up with your contacts and marks the ones using Viber with a small logo. This way you can easily see which ones you can call for free, while for users not on Viber you can send an invitation. But the real game-changer is that even when Viber is not running, you can still get a phone call and it is as
simple
as a single tap on the "Answer" button that pops up. Free text messaging is also expected down the road, but is not yet available.

Viber vs Skype vs FaceTime
One future problem might turn to be
servers
, but iMesh, creators of Viber, were confident that their dozens of servers across the globe will manage the load. How is this making any profit for the company? We are yet to see, but for the time being there are no ads in your Phone app, so you can go ahead and give it a spin! Let us know if you liked it in the comments.
source:
Viber
via
TechCrunch