Siri was meant as Verizon DROID exclusive before Steve Jobs snatched it
41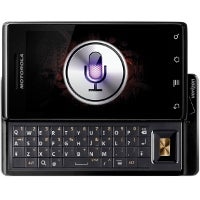 You know what might have happened with Siri, Apple's venerable voice-controlled assistant? It might have been on the original
Motorola DROID
that started Android's push into the mainstream.
That's right, according to insider info obtained during the making of a piece about Siri and its founding fathers, the Huffington Post claims that the deal with Verizon was so far ahead, that the carrier even started recording ads for the intelligent voice control that would be a
unique selling features for its DROID army
.
The partnership with Siri's founders and Verizon fell apart because Steve Jobs outright bought Siri asking for exclusivity, and the fact of the matter is that Apple scooped the service and made one of the most commented features in mobile, prompting Google and the others to speed up their voice-recognition efforts.
The whole piece is fascinating, following the evolution of Siri from the moment it was a government-funded DoD project for machine learning tasked at SRI International, through the bold vision of its startup founders to make it a "do engine" that not only serves information to you, but also acts on it in an intuitive manner, to the somewhat neutered version that is gracing your iPhone at the moment.
It turns out that what caught Steve Jobs' attention were actually not the
breakthrough natural language processing algorithms
which were utilized when Siri was outed as a standalone iOS app, but the service's
human personality and attitude
. He immediately saw the potential in the idea of Siri's founders for different personality packs, which would reflect the user's own. Siri's Kittlaus said, for example, that the idea was on a question like "
Yo, yo what kind of flicks are playing, dude?
", Siri to answer in the same style: "
Hey man, check out the new Eastwood flick. Word
."
Apparently, Steve Jobs was imagining the human-machine communication in a similar manner, as he swooped in to buy the startup, and insisted that it nixes all deals with Verizon, which was there months before Apple, so as Siri remains exclusive to iOS. It also seems that Apple has plenty more to introduce regarding Siri, just to bring it up to its original module, and, knowing Cupertino, it will probably do so step by step.