Siri to get better 3rd party app integration for the iWatch
15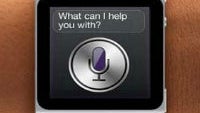 One of the most fun parts of this job is when you get to gather the rumors, rationally look at how all of the products fit together, come up with an educated guess of what we should expect to see in the future, and have that guess verified later by outside sources. When we did our 2014 preview of iOS last week, we thought it was obvious that Siri would be
coming to the forefront
with the iWatch and would likely need to include 3rd party integration, and guess what is being reported now?
That's right!
The Information
is reporting that Siri will be expanded with better 3rd party integration to make using the iWatch easier. Logical conclusions are fun, eh? The reasoning is simple: screen real estate is extremely limited on smartwatches, so you need another reliable way to interact with the device, and that's where all of the work on voice command systems comes to fruition. The report does go a bit beyond our assumptions to describe the potential usage a bit, saying:
The technology being developed at Apple can also be applied to determine what app to show a user when they have limited screen space, as they would when using a smartwatch the company has been developing, according to people familiar with the effort. If a user starts running, for example, Siri might show them a fitness app that could help them track their workout while moving other apps into the background.
This quote makes it sound like Siri won't just get better 3rd party app integration, but will also move away from voice command a bit and begin working based on context, more like Google Now. It would make perfect sense that the iWatch would serve you a certain app based on context, but given that Siri has been voice interaction-only so far, we assume that the quote simply means that Siri would notify you verbally that the app has started rather than the apps being more deeply integrated into Siri like cards are in Google Now.
Still, the future seems clear: wearables will rely heavily on voice command systems, so we should be seeing a lot of work done on Siri, Google Now, Cortana, and S Voice as we move forward in 2014.