Shuttleworth says Ubuntu Edge has inspired others, including Apple and Samsung
10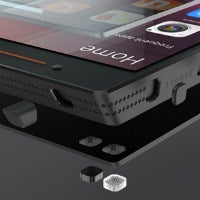 The
Ubuntu Edge
was a tech geek's dream. It was ambitious and forward thinking, but apparently too much so, because the
project failed
to gather the support needed to make it happen. Of course, that isn't going to stop Canonical founder Mark Shuttleworth from claiming that the Ubuntu superphone concept has inspired other manufacturers including Apple and Samsung.
Canonical held an Ubuntu On Air Town Hall Hangout yesterday where Shuttleworth, Ubuntu Community Manager Jono Bacon, Ubuntu VP of Engineering Rick Spencer, and VP of Mobile and Online Services Cristian Parrino answered questions from the community. The chat was quite interesting if you want to know more about Ubuntu Touch and how it works, but there was an interesting moment near the end that has garnered headlines. Shuttleworth fielded the question: "Do you think that the Ubuntu
Edge
will ever exist?"
Shuttleworth began by lamenting the fact that the Edge never got off the ground because it was a device that "pooled together the future in the palm of your hands." He then went on to point out that Apple has purchased three years worth of sapphire glass from the same company that Canonical had approached about the Edge, and that Apple has started calling its A7 a "desktop class processor", which is what Canonical had wanted for the Edge. He even goes so far as to point out that devices from Samsung are aiming to have the same 3GB of RAM that was planned for the Edge.
Sure, any forward thinking concept could make the same claims at some point or another. We have seen concept renders over the years that sounded unrealistic at the time, but times change. When it was proposed, the Ubuntu Edge was pushing the limits, but not out of the realm of possibility, so it shouldn't be too surprising to see devices coming along that match its promise.
As we said, the whole video is quite interesting, but if you specifically want the comment we're talking about above, just jump to 30:15 mark.