Sharp's new Aquos Xx and Xx mini: ultra-slim bezels and Snapdragon 800
24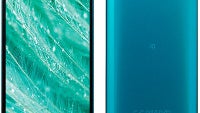 Japanese carrier Softbank has recently announced that it'll be carrying Sharp's two new flagship devices – the Aquos Xx and the Aquos Xx mini. The Japanese company's mobile arm has definitely been struggling, so the adoption of its phones has been largely limited to Japan. As you should know by now, there appears to be no one way to go about conquering the smartphone industry and in the case of Sharp, it sure isn't for lack of a compelling product, at least in view of the newly christened Xx and Xx mini.
Just how compelling is the new Sharp duo, though? Let's take a look
With some small exceptions, the Sharp Aquos Xx reads like a geek's dream. It's got all the cutting edge hardware on board – Snapdragon 800, 2GB of RAM, and a big 5.2-inch, 1080p screen S-CG Silicon TFT screen (instead of the expected IGZO screen). It's an older technology, and in years past, Sharp has justified its use over IGZO panels due to the higher pixel densities it can achieve, not to mention that it's simply cheaper. The rest of the specs include a non-removable 2600mAh battery, and 32GB of microSD-expandable storage.
As far as the design of the Aquos Xx is concerned, we found it to be rather uninspired and kind of thick, though we do have a thing for nearly bezel-less phones – the screen on the Xx accounts for 82% of the device's front. On the back, you've got a 16.3-megapixel CMOS sensor with an aperture of f/1.9, while a far less impressive 1.2-megapixel unit resides at the front. The Sharp Aquos Xx will be made available sometime in December, though pricing is currently unknown.
The 4.5-inch Sharp Aquos Xx mini is a proper sized-down version of its sibling, with a few key exceptions. For example, while the Xx mini also comes packing a punch thanks to Qualcomm's Snapdragon 800 and 2GB of RAM, the display is, again, 1080p, though this time around Sharp has fitted an IGZO LCD panel. In case you're wondering, that adds up to a jaw-droppingly dense 490 ppi. The battery on the Xx mini is similarly embedded, but smaller, at 2120mAh.
Much alike to the Aquos Xx, the design on the Xx mini simply looks dated, not to mention that despite its attractive slim bezels at the front, the device is also on the thick side at 9.8mm. Looking at the camera, the spec sheets points towards a 13.1-megapixel rear unit with the same wide f/1.9 aperture and an identical 1.2-megapixel front shooter. The device is slated for a disappointingly distant February release, while pricing info has been altogether omitted.