Share your Wi-Fi network key using QR codes or NFC with InstaWifi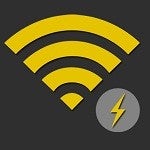 This Android app allows you to instantly share your network key with other users, a feature that can come in handy if people are prone to fat-fingering a password. It is also handy if you lose track of the password, yet still have the key saved in your phone.
As you will see in the video, sharing via NFC is instantaneous, and scanning the QR code is very fast as well. Your friends will certainly appreciate you letting them save some power and save some data by hopping on to your Wi-Fi. The best part in using the app is you do not need to write down the passcode on a piece of paper, only for it to be lost or copied later.
Naturally, the intent of the app is to quickly share your Wi-Fi keys with friends and family. The app is free on Google Play
sources:
Google Play
via
Redmond Pie