Shaq attack: how to use your big screen phone easier with one hand
9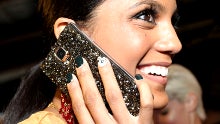 Hauling groceries in one hand trying to answer a text with the other? Eating chicken fingers and trying to launch the ESPN app to see how the other games are advancing? Today's big screen smartphones present plenty of challenges towards one-handed operation, and with the
iPhone 6
and
6 Plus
, Apple threw its gauntlet in the arena of one-handed modes, too. There were plenty of manufacturers beforehand that offer some interface features to facilitate the one-handed operation of today's big-screen phones, with Samsung, as the one which popularized the phablet format, paving the way.
Apple's take on the matter is certainly different than what Samsung or LG have to offer, and it will obviously be available on all of its bigger screen phones now, that's why we are including it in the demo videos below.
How about if your manufacturer doesn't support any one-handed modes in their interface overlay, or you are running stock, though? Well, there are plenty of third-party apps, and a few tips that can make your big-screen phone extremely manageable with one hand, while you carry groceries or eat chicken fingers with the other. Here's what you might want to check if you are gunning for an easier one-handed operation.
Now that you've seen the different takes on the one-handed mode, and the different ways to activate it on big-screen phones, tell us what you have found useful in fighting with your monster of a phablet with a hand tied behind your back. And don't just say "I support it with the pinky," either.