Shapeshifting phone concepts to be demoed as Morphees, bringing in specs like 'shape resolution' and 'stretchability'
5

Morphees prototypes
There is a whole different world of possibilities that will open once flexible displays by the likes of Samsung, LG, Nokia and Sony, hit commercial devices. Samsung already introduced prototypes made with its
flexible OLED technology at CES this January
, and
LG might even beat it to the punch
with a retail device, while
Sony
and
Nokia
have also shown some shapeshifting panels.
The bendy phone concept, however, needs to be examined from a more philosophical perspective - what materials can be used, how will this change the interaction with our devices, what field for work opens in terms of
innovative app development
and so on. Now a researcher with the Bristol Interaction and Graphics group (University of Bristol, UK), with a background in the Human computer interaction lab at tje Hasso Plattner Institute, Germany, as well as a Ph.D in the Visualization and Advanced Interfaces group at Telecom ParisTech, has done just that.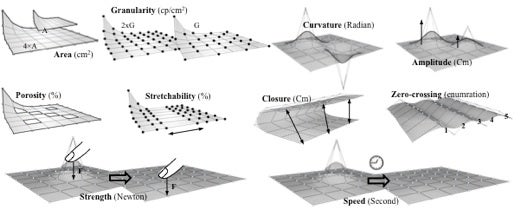 Morphees concept designs
Pretty stellar credentials for this type of work, as you can see, and her team came up with possible concepts for the design of the upcoming shapeshifting smartphones revolution, and has called them Morphees, which is a pretty cool name for the gang:
A Morphee is a self-actuated flexible mobile device that address the multiple affordance desired by any applications and transform itself into desired shapes. We envision that app stores can potentially evolve to give opportunities to developers to create practical applications with their specific form factors. We compare six actuation strategies of Morphees, five using advanced technologies in morphing materials: Dielectric Electro Active Polymers (DEAP) and Shape Memory Alloys (SMA).
We glanced over the topic when we reviewed the
phone-human interaction future beyond touch
, but this research is focusing on the bendable, rollable, splittable and so on phone concepts that will be made possible by new materials and new technologies, and how these novel design paradigms will alter the way we interact with out handsets. We will, of course, need new specs fields for such devices, and the researchers have concocted some of the new things that will have to be measured, like "shape resolution", "stretchability", "curvature", and even "porosity".
Check out some of the concepts in the video - these will be presented at the ongoing Computing and Human Intelligence Conference (CHI) 2013 expo - and if those catch your fancy, you can read the whole paper in the source link below.