Sony shows off flexible 9.9" OLED panel
23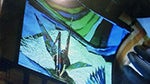 Lovers of all things mobile know about the big conferences – the CESes and MWCs of the world – but sometimes you find important technological breakthroughs at less mobile-oriented meetings. As an example, the Society for Information Display (SID) had their annual Display Week last week, and all of the major consumer electronic companies were showing off their latest display breath throughs. With an eye on the future, Sony was talking up a new flexible 9.9 inch OLED display that may make it into the tablets of the future.
TV fans may remember that Sony was the first company to bring an OLED set to market, but the prices were exorbitant and production runs were limited (which was fine, because for $2,500 for an 11" TV very few people were buying them). Since then Sony has largely had to watch
Samsung
and
LG
leap ahead on being able to ship mass quantities of OLED displays. Sony's new tablet-sized display isn't terribly exciting in terms of resolution – at 960 x 540 the display musters a mere 111 pixels per inch. What is really special about this panel for Sony is that it's made using a common glass substrate-based manufacturing process already used for other displays (except that the glass is removed at the end). Being able to use a common manufacturing process solves the biggest problems – price and volume (which are directly linked).
We expect higher resolution to come as Sony perfects their manufacturing technique. If they do, they'll end up with a tablet-sized panel that is flexible (if desired), can be manufactured at scale, and like other OLED panels will have ridiculously good contrast and sip electricity at a much lower rate than LCDs and AMOLEDs. And it will add more competition to the companies already supplying OLED panels for mobile devices. That's something we can all get excited about.
source:
Tech-On!
via
geek.com
Recommended Stories