LG will announce a smartphone with flexible display before year's end
20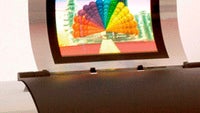 Sooner or later, a phone with flexible screen will launch on the market – that is pretty much imminent. After all, we have two of the biggest players on the market – Samsung and LG, working on that as we write these very lines. Which one of them will introduce such a device first, however, is something we cannot give a definite answer yet, although it seems like the latter will be ready with its offering before 2013 is out.
In fact,
LG is promising that it will announce a smartphone with a flexible screen in Q4 of this year
. Word comes from Yoon Bu-hyun – vice president of mobile at LG, who said that his team was developing one in partnership with LG Display. The screen will be made using OLED technology, according to the report.
Note that while this LG smartphone will have a flexible display, the handset itself won't bend or anything like that. The rigid circuitry and battery inside it will surely make that impossible. Instead, chances are that we'll see a handset with screen that wraps around the edges – perhaps something that closely resembles one of
these Samsung prototypes
that were shown off earlier this year.
Recommended Stories