Sex sells: LG's G Watch promo site looks like a posh fashion magazine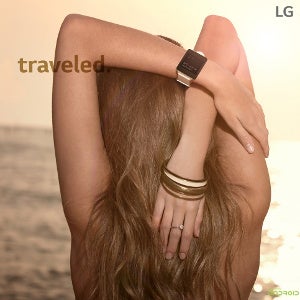 Look at that gorgeous girl, about to take a dive in the endless ocean at sunset. What do you see? She's got a watch on her hand, but if you're a man, you're probably noticing a thousand other things first. We're professional, but even we can't help wonder whether she's wearing a swimsuit or not (feel free to lay out your arguments for and against in the comments below). What were we talking about? Yes, a water-resistant watch, of course, pardon our forgiveness.
Now, back to the watch for one slide. Now look at another stunning female model, running the track.
"Thinking, feeling."
She's also got a watch with an
"Always-on display"
, but the image has more juicy highlights for viewers to focus on. Then a few more.
The point? The LG G Watch is stylish, fitting the perfect lifestyle of the models. But is it really this point that comes across? Look, we're definitely not complaining about LG's style in models, but the LG G Watch does not really seem like the focus of these images. They look much more like a posh fashion magazine, and what we're trying to say is that it might not be the best way to focus attention to it. Or maybe it's the opposite, and you'd remember it easier this way. What do you think? Sex sells, but is it the right way to promote a gadget like the LG G Watch?
Sex sells: LG's G Watch promo site looks like a posh fashion magazine
source:
LG