Senators ask FCC to investigate cell makers exclusivity deals with carriers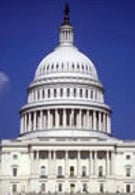 Four Senators are asking the FCC to see if the public is being harmed by the exclusivity deals that carriers are entering into with phone manufacturers. Apple's iPhone and the BlackBerry Storm are sold in the U.S. by AT&T and Verizon respectively, and the politicians want to know if such deals not only hurt consumers, but also whether they stifle innovation in the industry. The four Senators are Commerce Committee members John Kerry (D-Mass.), Roger Wicker (R-Miss), Byron Dorgan (D-N.D) and Amy Klobuchar (D-Minn). The committee plans hearings on issues for cellular customers this week.
The Senators also want the FCC to check if the exclusivity deals are restricting consumer choice by geography, especially for those in rural areas, and if the wireless carrier market is being manipulated as a result of tying a specific handset to one carrier for a period of time. In a letter to FCC ChairmanMichael Copps, the politicians wrote, "We ask that you examine this issue carefully and act expeditiouslyshould you find that exclusivity agreements unfairly restrict consumerchoice or adversely affect competition in the commercial wirelessmarketplace".
source:
Silicon Valley/San Jose Business Journal