Selfie sticks are so 2015 — selfie drones are in!
13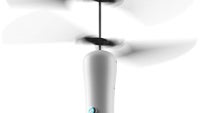 Yes, the selfie sticks are here to stay — no matter the fact that many people view them as a symbol of shallow narcissism and the oversharing culture,
make fun
of their users, and that they have been
banned from some public spaces
due to the potential dangers they pose if swung around. In fact, they are evolving into something that can actually be even more dangerous, if not also more ridiculous to watch if it becomes a fad.
Meet ROAM-e – a drone designed specifically for selfies. This little fellow's job is to always hover around you, either to take the perfect photo or to live stream the footage. The device employs facial recognition technologies to keep its eye on you and will, at default, not stray further than 80 feet (25 meters); it also has a Follow Me mode, which will keep it following you at a constant distance of 10 feet (3 meters). To round its functions off, there's a panoramic mode, which has the drone spin around and deliver a 360-degree shot. ROAM-e costs $349 and is shipped within 12 weeks of delivery.
The drone would tether to the user's smartphone, presumably being able to work with both Android and iOS. Its camera is equipped with a rather modest 5 MP sensor and ROAM-e can fly for about 20 minutes on a 2-hour charge.
So, on one side, this is kind of cool. Bloggers and hikers could use this as a pretty cool way to add some spice to their footage, or record a part of a breathtaking hike. And at the price of $350 for a 5 MP camera and 20 minutes of flight time, it's obviously more of a tool for early adopters. However, once this tech becomes slightly more affordable, we can see how urban areas could quickly become "no selfie drone" zones.